Hello all!
I didn't write a post for a long long time, but here goes…
I'm competing in the Battlesnake 2019 Winter Classic!
We are taking Battlesnake tournaments into the cyber-streams with the Battlesnake Winter Classic! This will be a three tournament series running over November and December that will have snakes battling it out for the title of Winter Classic Champion.
Dutch Viper!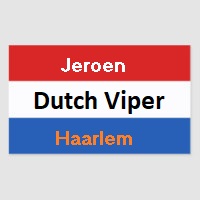 I mainly program in PHP professionally. This was a great opportunity to try something new… so my snake is written in Golang.
I'll enter the rookie bracket, since it's the first time I'll compete (My snake wasn't ready for the battle last year…)
Wish me luck
When does it happen?
My First Tournament Ever! – Saturday, November 16th @3:00 pm PST.
That's midnight next Sunday 00:00  (CET +01) for you folks in Amsterdam, make sure the beer is in the fridge this saturday night!
The tournament will be streamed live on the Official Battlesnake Twitch channel.
For more info visit the official blog.