This is a combined blogpost about my adventures after Đà Lạt and some of it is Not for the faint-hearted, especially going down the Hải Vân Pass without any air left in the rear tyre… and popping it again on the AH1!
The adventure all begins when we set off at 13:00 to catch the first bus to Nha Trang from Da lat. So far so good, nothing special to report here, just a bog standard Vietnamese tourist transport. We arrived in Nha Trang on schedule and grab a pizza at a local restaurant. Then the night bus arrived…
The night bus to Hội An (via Nha Trang)
At first it seemed like a normal bus ("Hey look! it even has a toilet inside!") but after the chauffeur loaded all our baggage and we got to our designated sleeping spots things got a little bit weird…
The first 50 kilometers took about 3 hours… I will explain why: The bus started off pretty empty, but then we stopped for some additional freight, then 5 minutes later we stopped to put some luggage on the roof (didn't fit in the baggage storage of the bus anymore) and 10 minutes later a whole army of Vietnamese locals barged into the bus… but wait… all seats are occupied already?!? Nope!
Our trusty bus-driver took out some plastic sleeper mats and started laying them out in the footpath. We had the seats in the end of the bus (three adjacent seats) and because of all the people and bags in the aisle… not a chance to reach the toilet. It looked like an absolute minefield of people!
Since a picture says a more than a thousand words…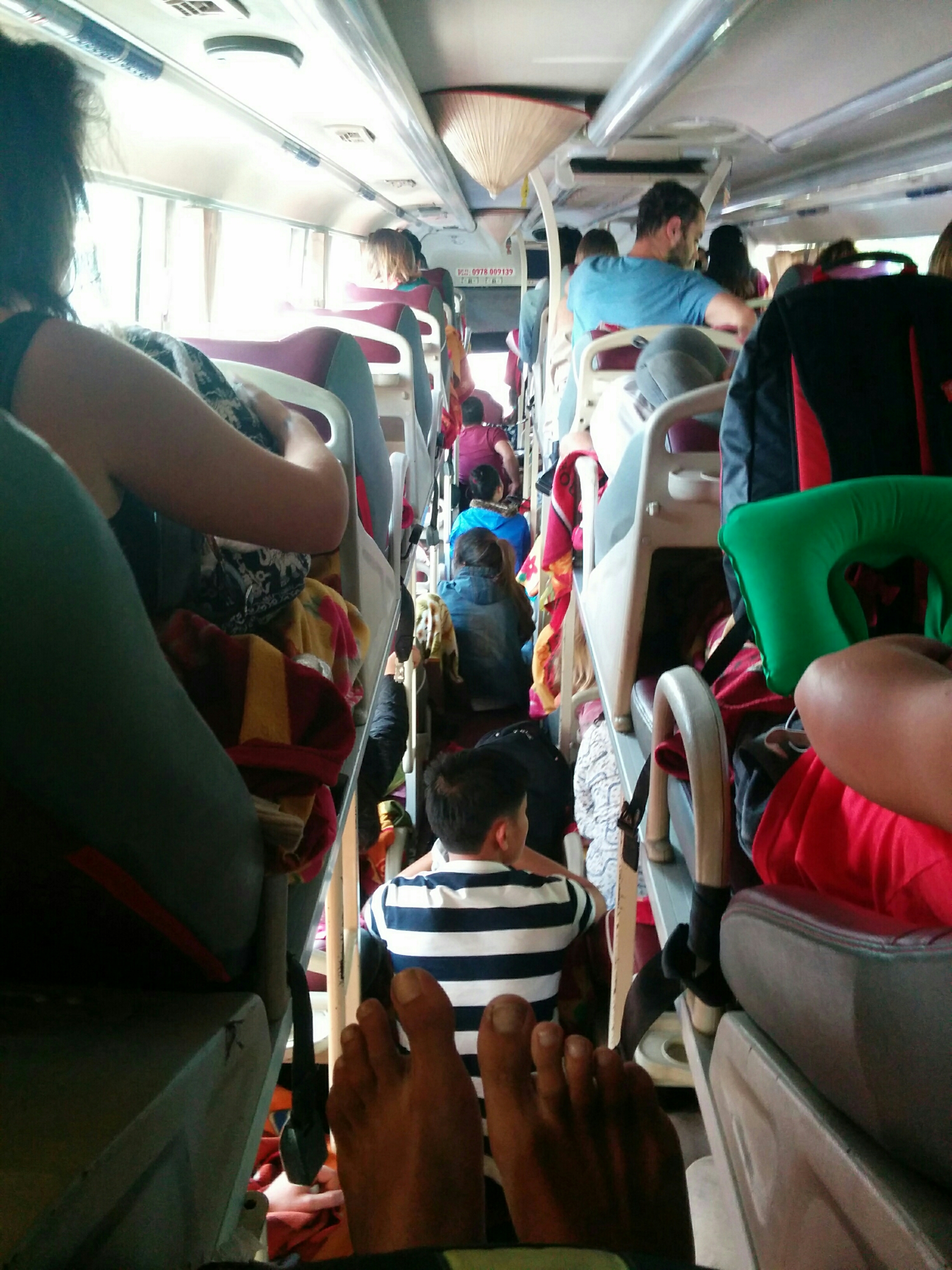 Hội An
When we finally arrived in Hội An at 07:00 the next day, we were really happy to get off the bus. After dodging all the locals on our way out of the bus we collected our baggage and stashed it in the Sunflower hostel. We rented some bicycles for 20.000 VND (really shoddy) and we set off the the beach!
After some R&R on one of Vietnam's finest beaches, we headed back to the hostel to take a dip in the pool.
We chilled out in Hoi an mostly and drank a lot of Bia Hoi (fresh beer, 3000 VND per glass)
Rented a scooter the next day for a visit to the "Marble Mountains"
TIP: Don't pay the extra 15.000 VND for the elevator up the marble mountains, as it doubles the entry fee of 15.000 and you'll be doing a lot of walking and climbing up rocks anyway!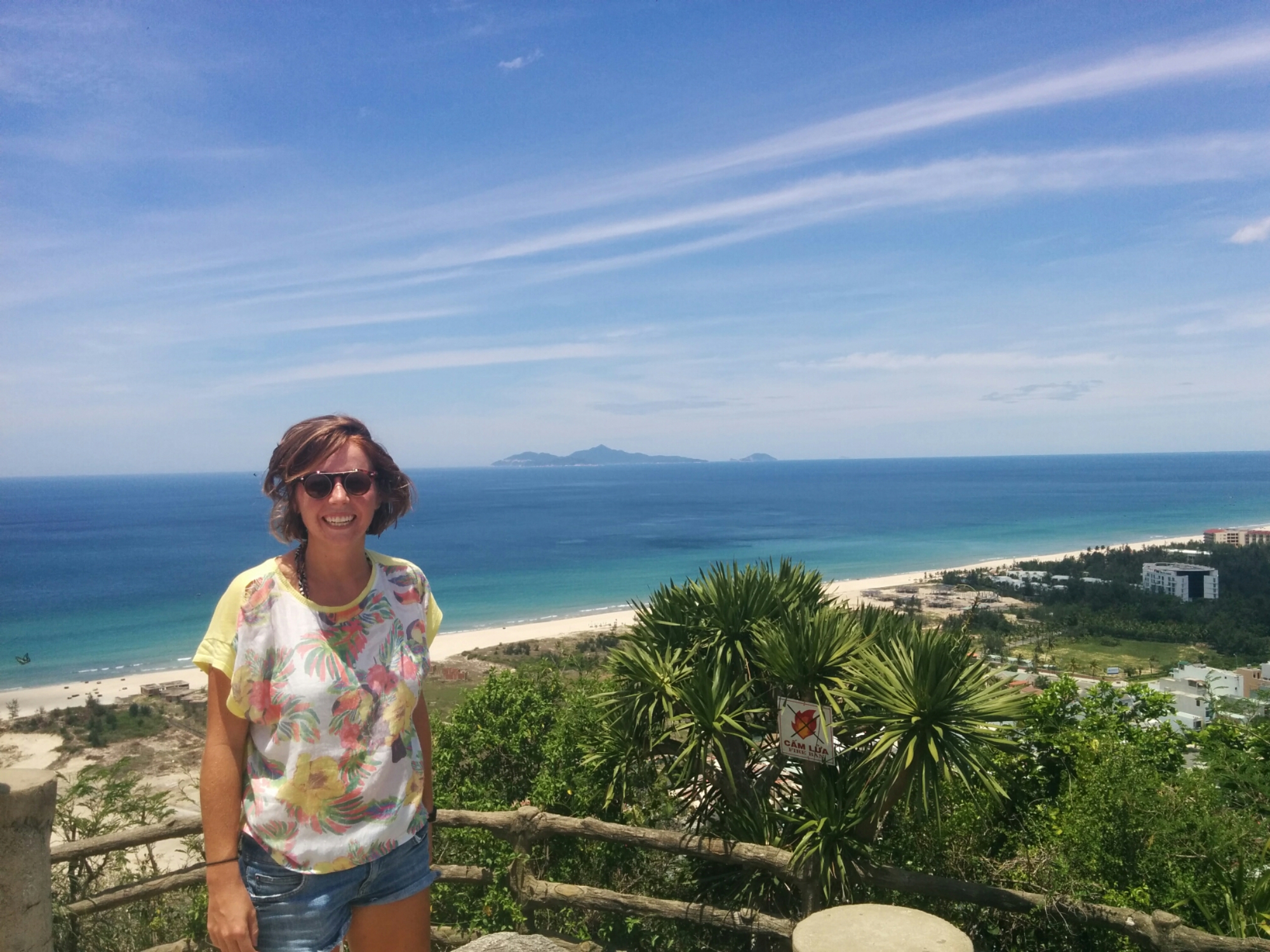 That was one of the most sweaty experiences ever! But we made it, after that we set off to visit the big statue "Lady buddha" in Da Nang, underway we stopped for some seafood with rice and… a big monsoon hit us and guess what? We forgot the rain poncho's! Luckily it was only a short burst with a lot of rain, and when it stopped we just raced back to Hoi An. After booking a one-way scooter to go over the Hai Van Pass, we set off nice and early the next day.
Adventure on the Hải Vân Pass

OMG! That's basically what i thought during the 2nd half of this trip. We got a semi-automatic scooter for the (top gear proclaimed) best road (Read my adventure of Jan 28) of Vietnam. And we visited the Lady Buddha statue that we wanted to visit the previous day. Then we set off for the Hai Van Pass! At the foot of the mountain I was a bit worried about fuel, so we fueled up the scooter to the brim and set off… up the mountain, winding roads with beautifull scenery. When we were almost at the top we stopped for a last glance at South Vietnam and the sight overlooking Da Nang and Hoi An. Had some lunch and i checked the pressure of the rear tyre… it was running a bit soft but i was sure we could get so me air on the top of the Pass. Just 2 minutes later we arrived at the top and everybody was shouting that we should park our scooter at their restaurant.
I wasn't interested in food, i was looking for a air compressor to inflate my tyre! So i replied "Air! Air! We need Air!" and a random guy said "Yes, yes, Air Air!" (although I didn't see any compressor nor a repair shop). After finding out that we weren't interested in food nor drinks at all, the guy said we had to go back to Da Nang to get it fixed… well… how about NO! I'd recon we would just have enough air in our tyre to make it to the bottom of the mountain (I knew there where repair shops at the other side)
Slowly but surely (no fun at all…

) We made it halfway down the mountain when
Me: "Houston, we have a problem…"
Anna: What? Oh, is it bad?
Me: Naaah, only that we don't have any air in our tyre anymore…. total flat.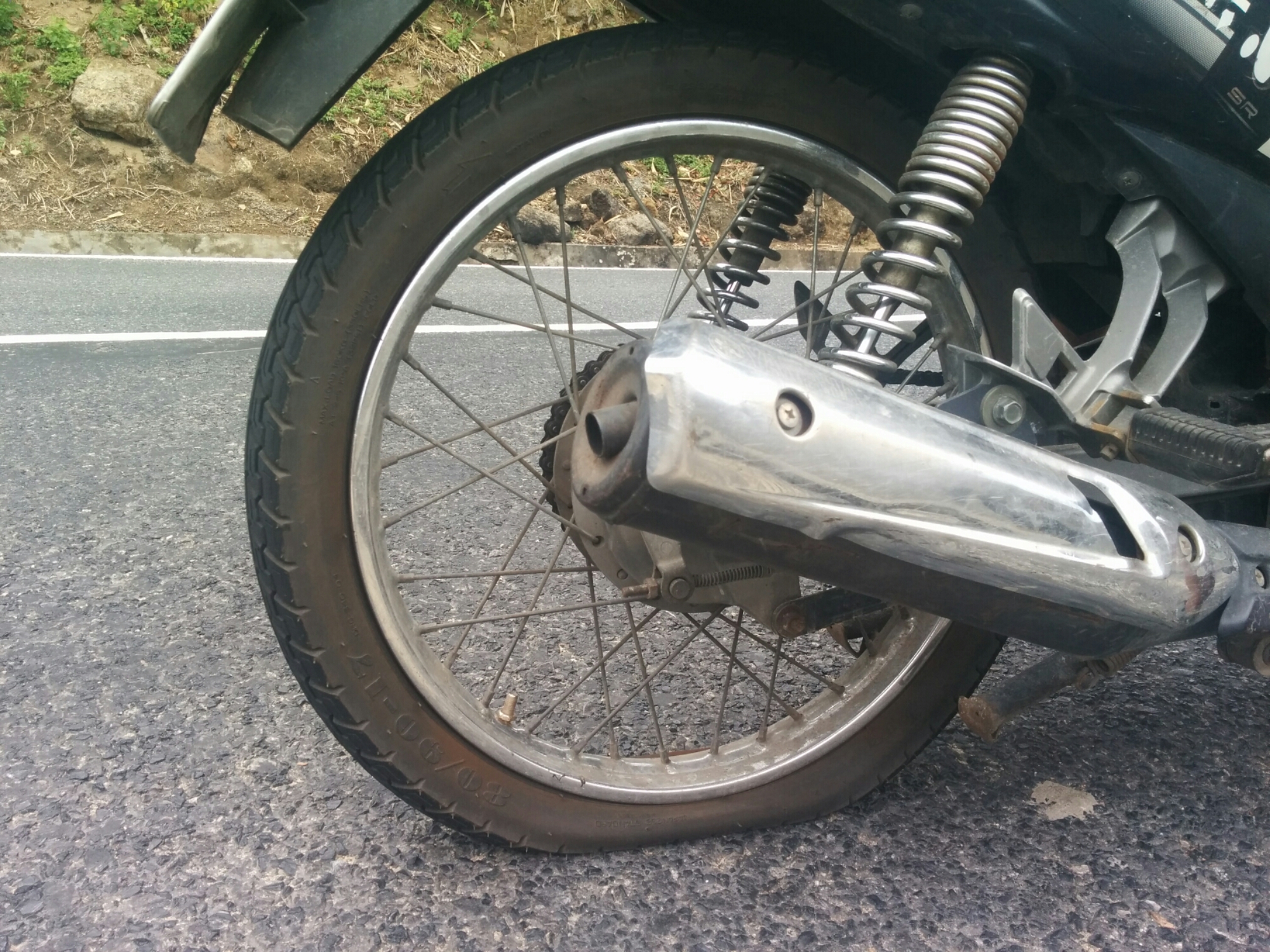 So… what should've been one of the most fun rides ever turned out into a horror story.
We had a totally flat tyre in 40 degree heat, the company with their break-down service didn't respond and our bottle of water was just running out. Driving down was totally impossible even with 5 km/h and only me on the scooter. We decided to walk down, lucky for us a local stopped and offered to get a mechanic, we paid 50.000 VND for a fix.
After visiting Elephant Springs (15.000 VND + 2000 VND for parking the scooter) and take a well deserved swim. We set out to drive the last 40km to Hue. When we got to the highway and reached about 60km/h our rear tyre said PANG! I could stop the bike safely on the side of the road but we had the 2nd flat of the day… :@  Totally unacceptable!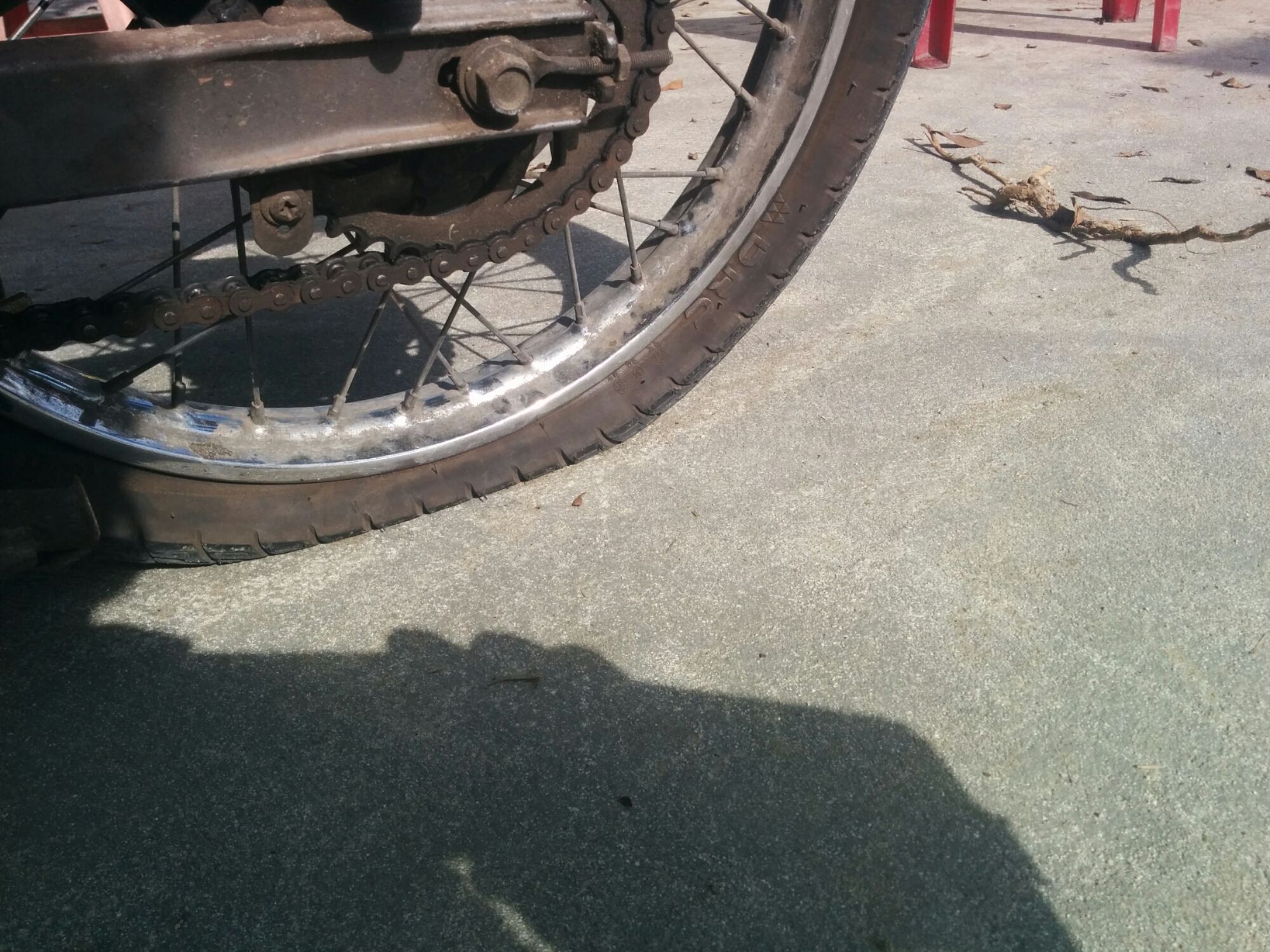 Lucky for us that the locals were helpful and for only 120.000 VND we got a new one (the tyre was deemed unfix-able) and some air in less than 20 minutes. We finished the last 40km to Hue and were really happy to check in to our hostel. Motovina offered us compensation in the form of a free scooter for the next day.
Urban exploring in Huế
And on the most manky scooter I've ever driven we set out to go urban exploring in Hue. I knew the location of the abandoned waterpark in Hue, so we drove there. The previous time I didn't have to pay any entree fee, this time the guard demanded 10.000 VND per person. But since we were really keen on visiting we payed the fee anyway. We had self-made lunch in the waterpark and had an awesome day.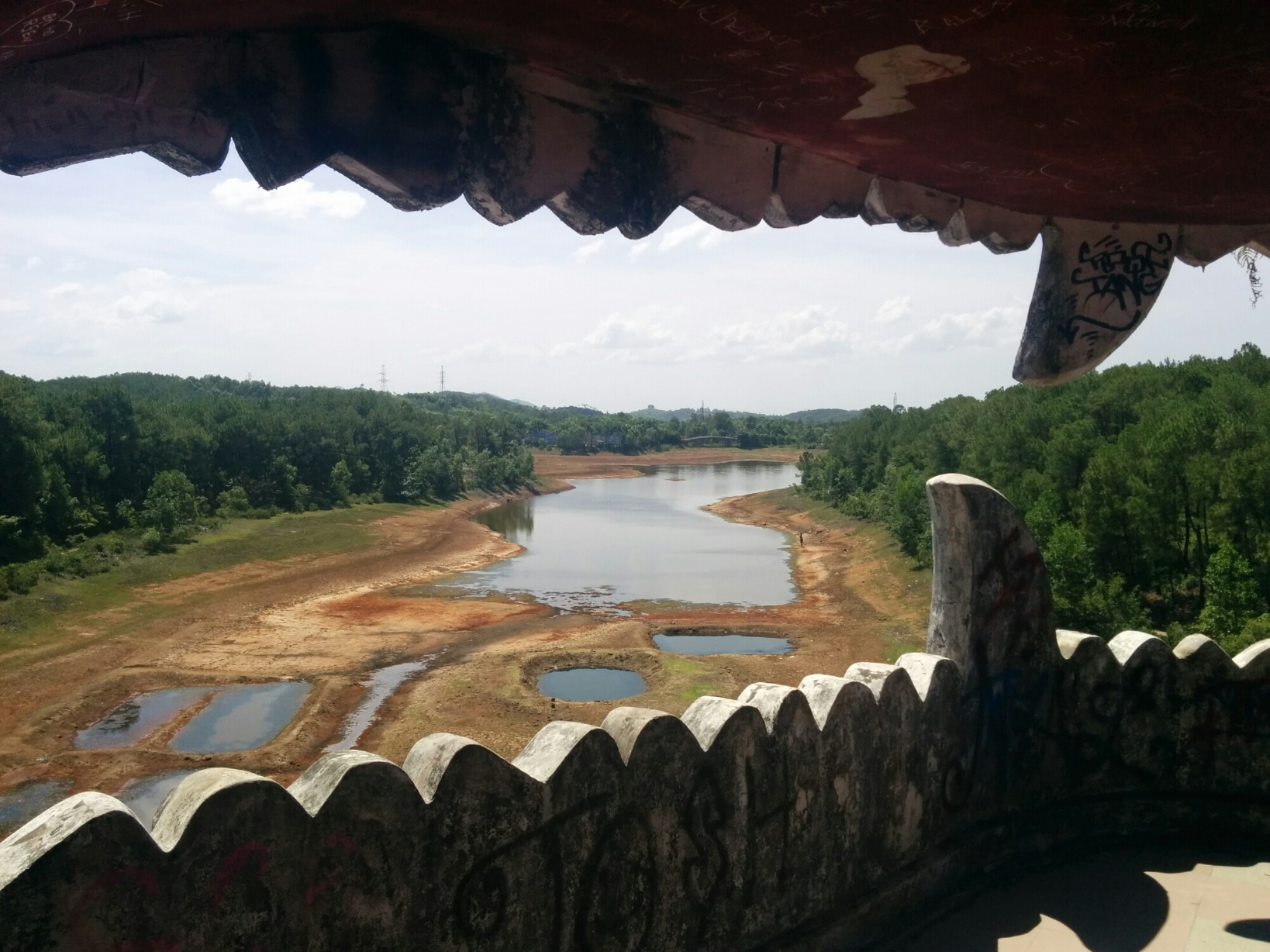 After Hue we set off to go explore the caves at Phong Nha!